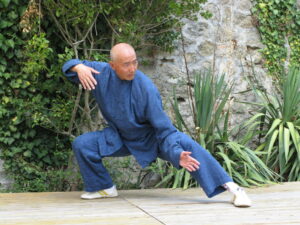 The mentor of the Nei Dan School, he was born in Shanghai and set off on his journey through martial arts in 1969, going on to study a variety of systems: Xin Yi of the Six Harmonies and Ten Animals, Ba Gua of the Snake, Mian Quan or "Cotton Fist", Ian Shou, and Ba Gua of the Dragon.
He began his studies of Chen-Style Taiji Quan in 1977 under Master Shong Guang-En, himself a live-in apprentice of Master Chen Zhao Kui, son of the renowned Chen Fa Ke. He later deepened his learning with some of the greatest masters, including Qin Zhong Bao, Ho Bin Quan and Ye Xiao Long.
In the early 1980s he moved to the United States, where he began to share the "great secrets of Taiji" with his own students. Today he is considered one of the key figures in the diffusion of Taiji beyond China. In 1995 he travelled to Italy for the first time and since then, at the invitation of the school, he has visited three times a year for three weeks at a time.
He is the President of the Worldwide Association for Chinese Internal Martial Arts (WACIMA).